One of the great benefits to being both a bachelor and a wanna-be interiors designer is that your living space becomes a canvas--just for you!
I have over the past year been building, moving, rearranging, acquiring, scavenging, WHATEV--to get my place the way I want it. I am finally like, 98% there.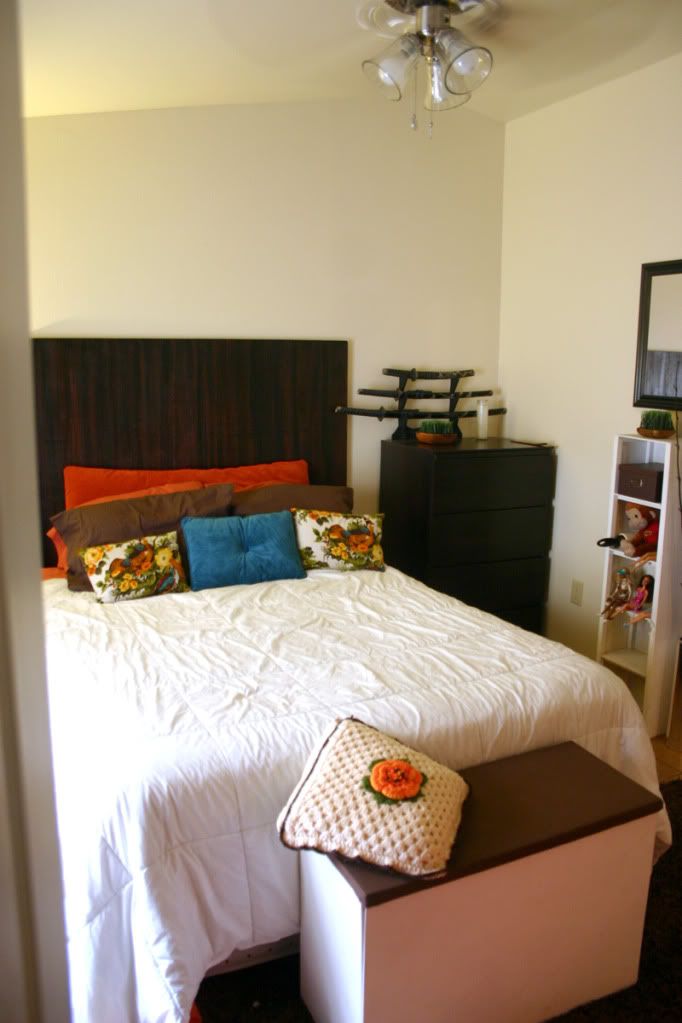 Designing a living space is incredibly fun, especially if you are as psychotically obsessive as I am. The first thing I needed to do was determine how much work was allowed to go into this. I rent, and the current plan is to be here for another year or so, so painting was really out of the question. Not so much because of the work in returning things to normal once I move out, but it just seemed like such a BIG thing to do for such a short period of time. Now that I think of it, I should have painted immediately when I moved in. Two+ years living in a space is worth the comfort, right? But now I have waited a year, and I cannot justify it. I digress.
So! Since I couldn't (didn't wanna) paint, I resorted to using color in other areas. The most obvious among them being large paintings, bedding, seating, and decorative items. I initially came into this with yellow chartreuse, chocolate brown, and a hint of orange/rust thrown in for fun. It TURNED IN TO rust and chocolate brown with the chartreuse as an accent...and later, EFFING DEEP TEAL BLUE!?? I HATE blue! I really do! I could NEVER use blue in my personal spaces. I dunno..It is such a cool color, and I think it throws off my chi or some shit like that. I don't know. You can tell that I adore the warm hues...definitely.
SO this teal took me by surprise. I didn't have any idea where it came from. It's a warm teal, however. Largely green with a twist of lime and a hint of age. (Look, I HAVE to describe colors like this. Blue isn't just blue, any more than red is just red. But I'll try to keep it in control. Haha.) And THEN I realized what had happened over the year.
THIS!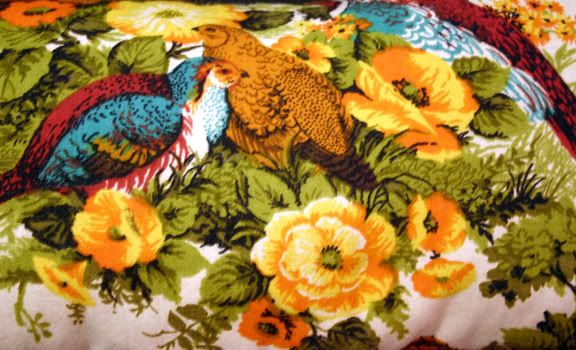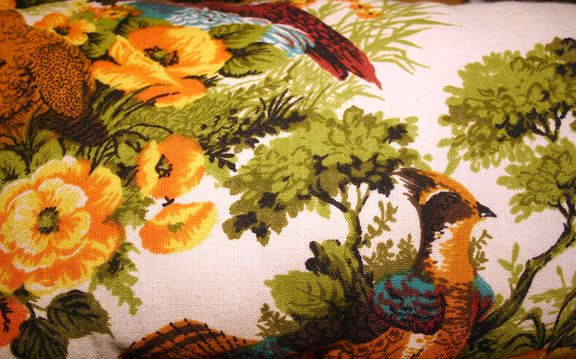 This fabric slipped into my life, via an awesome little estate sale. I had about 2 yards of it. At the time, I didn't really think about what I had found. But a month or two passed, and I became obsessed with it. The truth is, EVERYTHING in my home has become accessory to THIS ONE PATTERN. The colors are pretty much directly from it, and the feel of my tchotchkes and whatnot. Everything draws inspiration from this little piece of awesome that I found.
The problem? IT WAS ONLY TWO YARDS! So I'm basically out of it. And I will never ever find it again. I have looked. I looked in Natchitoches. I looked in Shreveport. I looked in New York Effin City. It no longer exists. But I continue to lurk the yard sales every Saturday just to check. If anyone has any leads, LET ME KNOW!
It has gotten so bad that I have used it for other things as well. My artwork, my artist leave-behind, MY OFFICE! AAUGH! Lol. It' just...so cool.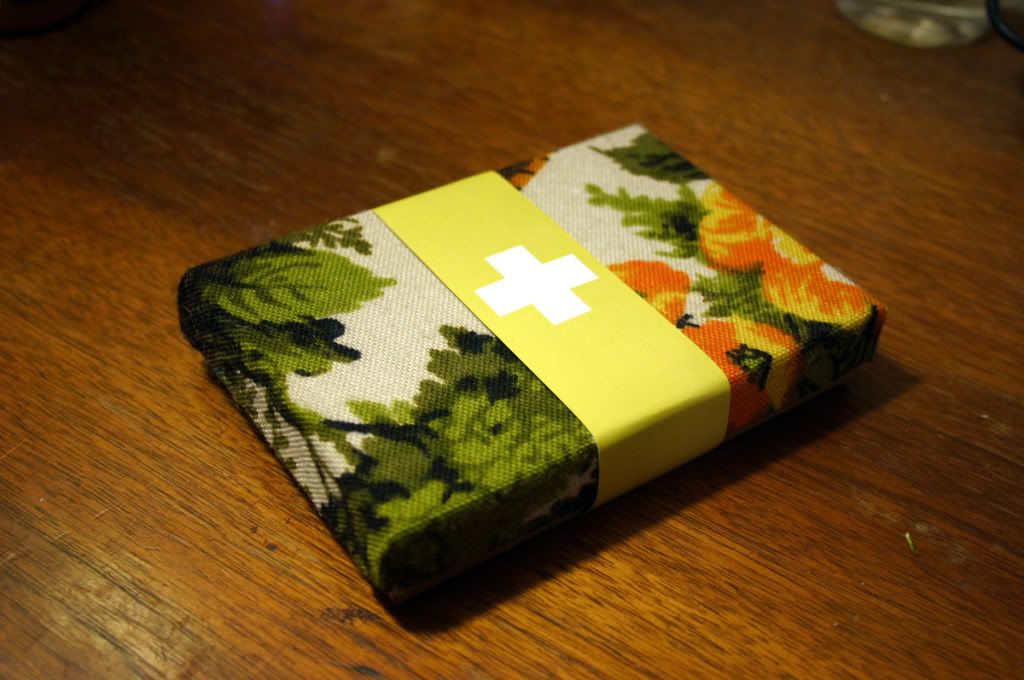 Also I hate green.
The next thing you are probably wondering about is a little addition I like to call Francis. Francis is a taxidermy 8-point buck that I found IN GOODWILL. Since I was like, age 11, I have wanted one. I am only just remembering this, but my grandmother had this really awful mounted squirrel...I used to play with it. Not like, GI Joe play with it, but like...I used to feel its fur, and wonder about who it used to be. Sure it was mildly creepy, but I was happy.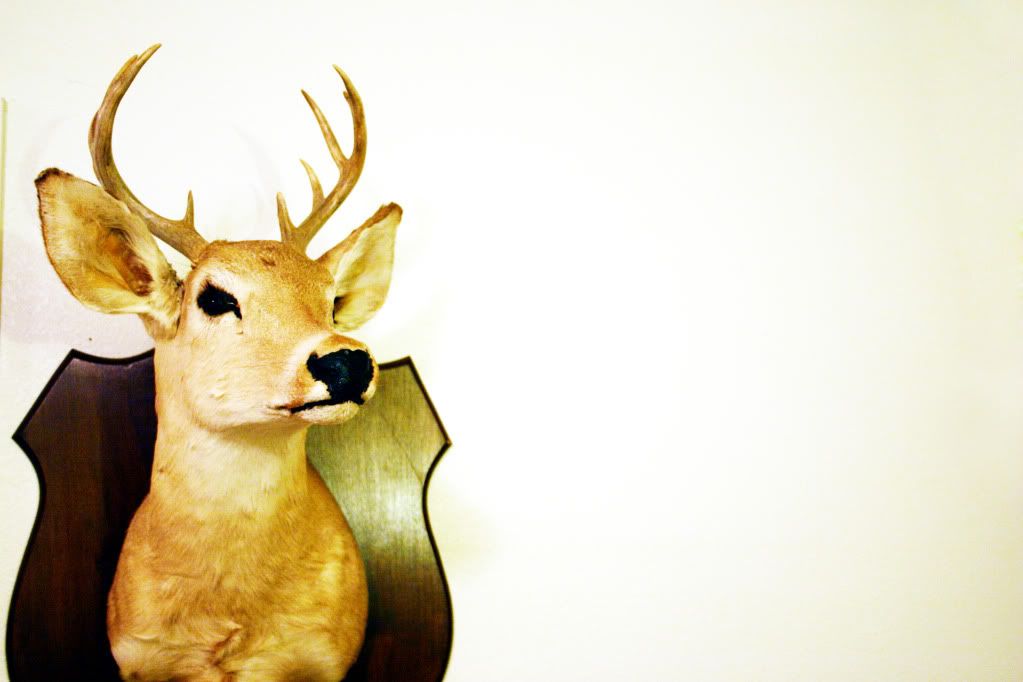 It also is sort of the culmination of my appreciation for all things obnoxiously masculine. It's obviously a tongue-in-cheek symbol of me, the biggest 'mo in all the land, and how I enjoy a life in which I am connected to my "machine-guns-chop-saws-hammer-sweat-steel-toe" side, just as much as I connect with my "nail-polish-drag-show-lady-gaga-glitter-n-stickers" side. To feature this animal head among pear-flavored jelly beans (that match!), faux orange orchids, a frame collage, and a big ass rusty couch is a decision that could only make sense if I were the one to make it.
Speaking of big ass couches. My couch is BIG!
Too
big. I built it earlier this summer, maybe a couple of months ago. I knew what I wanted, and I really did MAKE what I wanted. It just turns out that what I wanted isn't what made the most sense. SO, I have gone back to the drawing board, and I plan to (in the next week or so) disassemble this couch, and make a few adjustments to it (shortening the sides and the back, essentially.) It IS comfortable, I kid you not. But the scale of it just makes it look massive in my tiny apartment.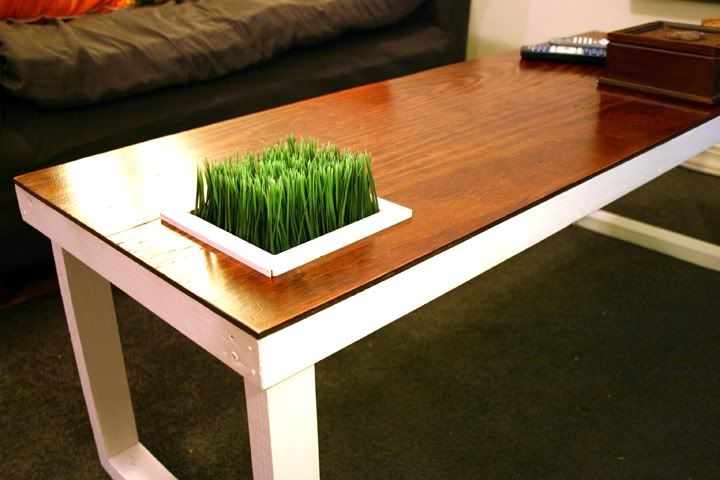 The couch is not the only thing I have made. I built my coffee table (this is the second, actually), I of course did the paintings and all that, I made my pillows (some from that kickass fabric), and I made my curtains. One of the first things I made is the headboard on my bed. It has been painted to look and feel like really dense dark wood. A part of me wants to slap a big white ampersand about a third over on it (in Neutra Bold, of course) BUT! We will see.
So! This is where I live. It is cozy and fun and totally me. Come over some time.