So it's been a little longer than expected since I blogged, but there is good reason! I have been busy. Lol. You know...with teaching school and whatnot. But here we are, at blog no. 5 and I thought it was time you get to know a little more about me. So here is an annotated list of some of my favorite things! In no particular order:
10: The Golden Girls
Yes. Those catty, horny, intelligent, fashion forward bitches are one of the biggest influences in my life. Not a day goes by that I don't reference, quote, draw a picture of, or worship their loveliness. Why!? I have no IDEA. A show that was made while I was a toddler about a group of "over-the-hill" women who refused to believe that age meant extinction has absolutely nothing to do with me. However, I cannot express the joy I get from seeing it, or the courage it gives me to be myself, or the hilarity that ensues with each episode. It truly remains one of the funniest and wittiest and most poignant television shows in all of history. And now Betty White is hosting SNL in May! How stellar.
For more information on The Golden Girls or any of the shows performers, please ask me. Frankly, I'm a little obsessed.
9: Juicy Pear Flavored Jelly Bellies
There has been no other perfected snack for me...except perhaps Chex Mix, and that is only because of
The Lonely Island
. I have a little glass box of them prominently displayed in my house--a snack that is also decor! What more could a 'mo ask for. And the kicker is that they REALLY taste like a genuine pear--you can taste the skin and everything. I love it.
8: Marina & The Diamonds
I discovered her recently in the form of her song "Hollywood" which takes a stab at the American tradition of celebrity worship which, coincidentally, turns out to be not so American as much as world-wide. I thought it was o.k....until I heard "Mowgli's Road" which gave me dancey shivers. Once I heard "Numb" and "Obsessions" (which made me fall to pieces and rebuild myself, respectively) I was kind of hooked. She proclaims that "[She] is Marina. You are the diamonds." How awesome. Check out her
myspace page
7: The Fact That People Think I'm A Hairdresser
Absolutely. I mean, I have always dabbled in the protein arts, but it gets ridiculous sometimes. This weekend alone I have 2 appointments...kind of out of nowhere. I am known to have a regular client or two every year for haircuts and whatnot...nothing too dramatic. Unless you are talking about my number 6 on this list. I suppose it is a way for me to flex my hair dressing muscle. If I wasn't a designer, I would have probably gone into hair and cosmetics or something anyway.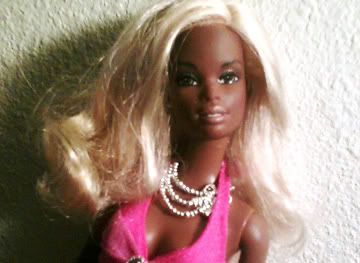 6: Barbie Dolls
I f*cking love Barbie Dolls, particularly the seemingly discontinued My Scene Barbies. I dunno...I don't think it's so much a gay thing (lies) as much as it is a hair/fashion thing. Where did I get a blonde black Barbie you ask? Umm...her hair was uh...donated...by another doll.
...
What!? Scalping one doll to perfect another does NOT make me morbid!
Anywho, I don't really play with them (lies) as much as I leave them naked around the house for guests to happen upon and be weirded out by. But oh, check
this
out!
5: Tyra Banks Ending Her Talk Show
I heard that it was so that she could focus on Top Model, which will appear on this list in the future. Let's face it--Tyra is nutty and cookoo and a little ignorant most times. But that b*tch KNOWS MODELING. Top Model is one of the best things she has ever brought to this world, and I don't plan on missing a second of it! Coincidentally, I missed a few this week because I had NO IDEA Top Model was already starting back up! So yay! I may have to do a top model blog each week like I did a few seasons ago. It was hilarious.
Bottom line, Tyra had a successful talk show, she is a successful career woman, and as long as we don't have to listen to her try to tackle "today's issues," we are pretty much in love with her.
A side not--how GENIUS was
this
photo shoot!?
4: Glee!
Fox Network FINALLY did something right when they developed the insanely popular musical show Glee. People everywhere are calling themselves "Gleeks" bringing brand new meaning to the phrase "Man, that's gay." Shut up.
But seriously. The talent, story telling, musical ingenuity...all these things have made for an incredibly fun hour-long show each week (comes back April 13!) I have personally done my part to addict as many people as possible. And that maaaaaahvelous Lea Michelle is TOTALLY Baby Idina. A side note-How many cast members of Heroes are they going to bring to this show!? Hah!
3: RuPaul's Drag Race!
This is turning out to be the gayest list ever. But I cannot leave out this hilarious show. "Oooooh girl! You got a She-Mail!" Omg so funny. I didn't discover this show until last August, and watched the whole thing online.It was incredibly hilarious. Not only is RuPaul funny, talented, a GREAT host, and quite intelligent, but it barely phases me that we see him as both a male and a female. He is intriguing either way. It is campy, trashy, slutty, bitchy and wonderful entertainment. And it's syndicated! Meanwhile, if I ever woke up in the middle of the night to that CREEPY RuPaul laugh, I might slice my throat.
2: WHERE THE HELL ARE MY CHEDDAR TRISCUITS!?
They came and went like a thief in the night. I fell madly in love with these things, and after a couple of months they were no where to be found. I searched ALL over, and eventually, about a year later, bought a few boxes from an online source. What a delicious month that was. But I want to know what the hell happened! They were incredibly cheesy but healthier than some other snacks...and I like whole grain so I felt good eating them. *Sigh*...I guess I am back to Wheat Thins...
1: Being Told I Look Like Will I. Am.
Sure he and Perez aren't the best of friends...but he has some of the coolest fashion sense for a "straight" guy...and I would love to emulate it. If I lived in a colder climate, I would totally wear scarves and gloves all the time.
Until next time kiddos!